The scheme below gives an overview of the representation structure of Maastricht University. The student representatives participate in the University Council and the different Faculty Councils. Click on each of the councils to see who your DOPE representatives are!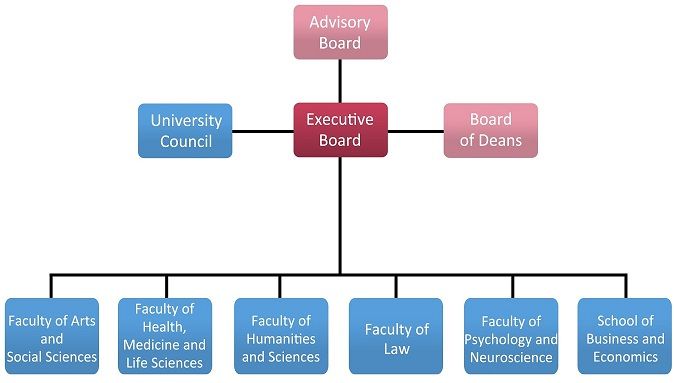 The Executive Board is ultimately responsible for the policies of the university, including the appointment of deans, directors and professors. The Board can also initiate new programmes and related research institutes and is responsible for managing finances and other management tasks.
The Supervisory Board supports the Executive Board by giving advice and, in addition, has to approve a number of important documents, including the UM administrative and management regulations, the organisation plan and the budget. The Supervisory Board is accountable to the Minister of Education.
The Board of Deans is the academic advisory body that supports the university's administrative bodies. Upon request or on its own initiative, the Board of Deans advises the Executive Board and the faculty boards on education and scholarship. The Board of Deans also functions as an informal consultative body for inter-faculty coordination of education and research. The board also awards doctoral degrees and honorary doctorates.